Dromore National School is a well-resourced highly functioning, child friendly and happy place to nurture and educate your young child. Once you step inside the door, you will feel the energy of care, kindness, support, along with hearing the happy voices of children learning and developing in a warm, safe, stimulating, bright and positive environment.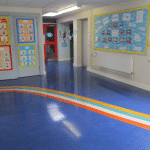 All classes are single streamed with a class teacher, supporting teacher and Special Needs Assistant assigned to each classroom.  Specialist teachers are also employed by the school offering an extensive range of extra-curricular activities, including, hurling football, rugby, soccer, athletics, choir, music, cookery, swimming and drama.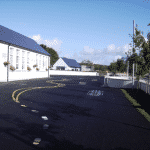 This child friendly school has outstanding facilities both indoors and outdoors with large spacious bright classrooms ensuite, well stocked library, large PE hall, two sensory rooms, sensory gardens computer suite, speech therapy and occupational therapy room, resource rooms and staff room. Outside facilities include an astro turf pitch, playing pitches, outdoor learning with mud kitchens, outdoor chalk boards, playground markings, chicken coop and poly tunnel so that children are catered for educationally, spiritually, physically, artistically and creatively. We will soon add to the existing accommodation with a new extension consisting of two additional infant classrooms interlinking to an integrated play room and outdoor learning area, along with a range of other facilities being built, it will take education through active learning and play to another level in Dromore, ensuring all children will be nurtured happily with state of the art facilities.
The building is brightly decorated and enhanced with displays of the children's work and art. The floor design incorporates motifs based on children's own ideas about what the school means to them. They illustrate the many aspects of school life. The play areas at the front, back and side of the school encourage imaginative play through the use of yard decoration. Native trees are planted along the front of the school and wild birds are encouraged to feed on our many bird feeders.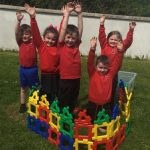 Our large school hall is used for P.E. dance, drama, Christmas concerts, visiting performances and also as a venue where families of First Communion and Confirmation pupils congregate and partake of refreshments.
From Spring onwards, colourful plant boxes adorn the windows. To the rear of the school our senior pupils have a variety of play areas to choose from. There is an Astroturf pitch, a ball court and a grassy area on which they play a wide variety of games such as hurling, Gaelic football, soccer, basketball and athletics.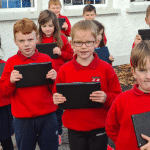 Dromore has 5 special classes attached to the school so that children with differing needs can be educated together and value each other's uniqueness.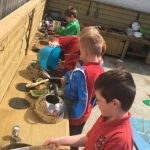 Team teaching and Station teaching (4 adults working together with groups of children, who alternate from one station to the next)  are to the fore, giving each child an opportunity to excel at their own rate with a significant emphasis being placed on active learning.